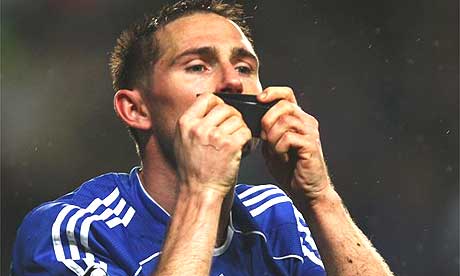 On August 13th, Frank Lampard became one of the highest-paid players in British history, signing a 5-year, £39.2 million contract with London's Chelsea FC. With current exchange rates, that stunning figure translates to approximately $73 million, on par with many upper-echelon NBA and NFL players. Lampard's future had been up in the air for months leading up to that point, with him on the brink of a move to his old mentor Jose Mourinho's Inter Milan. After making a difficult career decision, Lampard returned to preseason training with the London club and signed a bumper contract which should see him end his career wearing Chelsea blue.
For me, the important question remains: is Lampard really worth £39.2 million at this point in his career? At 30 years old, he can hardly be seen a player that will stay at the top level of his game for more than three or four years. In addition, the last season saw his importance to the club diminish slightly with the re-emergence of Michael Ballack as the talent that has recently carried Germany and previous clubs Bayern Munich and Bayer Leverkusen to dizzying heights. Furthermore, young Jon Obi Mikel has shown signs of quality to come, even as he is played out of position in a deeper-lying defensive midfield role (which I disagree with, but that is for another day). To get to the crux of the matter, why pay Lampard so much?
Lampard's value lies not only in his hammer-like right foot, or his box-to-box midfield capabilities, but also in his quiet leadership and his ability to lift those around him. While John Terry steals the camera flashes with his heroic displays of bodily sacrifice, vocal intimidation and inspiration, Lampard goes about his duty with a precision that is often overlooked. His shot is indeed thunderous, but it is rarely very far off target. His range of passing is underrated, and his defensive efforts (while they sometimes leave something to be desired) are not unnoticed.
Lampard also stands as a talisman of Chelsea's English backbone. He, John Terry and Ashley Cole are the only players who can really call themselves "first choice" at Stamford Bridge. While Joe Cole and Shaun Wright-Phillips often enjoy extended runs in the first team, their inclusion is often sporadic depending on their up-and-down form. In an increasingly foreign-dominated league, Chelsea is one of the clubs whose rise in prominence has come with the penalty of a downturn in English numbers. With the 'Big Four' of Manchester United, Arsenal, Liverpool and Chelsea averaging only 2.64 English starters per game* between them, Lampard holds his head high as one of the few quality English representatives.
Lampard's commitment to the club has been evident through the years, none moreso than his early return from compassionate leave after his mother's death to score a penalty in this year's Champions League semi-finals. His tearful celebration served as a reminder for his dedication to the Chelsea cause, even through emotional strife and tragedy.
For many, £39.2 million is a ludicrous fee to pay for an average centre midfielder who often underperforms for England. For others, mainly concentrated in the west of London, £39.2 million is a paltry sum to secure the services of a dynamic midfield general who would die on the pitch for his beloved Blues.
*Goal.com article: "Survey Says English Players in Prem at Record Low"
http://www.goal.com/en/Articolo.aspx?ContenutoId=713882